Welcome to the Mount Vernon Transportation Department, where safety is our top priority!
Have you downloaded the Ride 360 app yet?  
Here's a simplified guide for using the "Traversa Ride 360" app:
1. **Download the App**: Get "Traversa Ride 360" from Google Play Store or Apple App Store.
2. **Install and Open**: After installing, open the app.
3. **Select Your District**: Find your school district by searching for your child's school district name. 
4. **Login or Register**: If you're new, click 'Register'. Provide your email, password, and name. Confirm registration through the email link.
5. **Add Students**: Log in, go to My Students, click +, and find your student using district-required info. Repeat for more students. For help, contact your school district.
6. **Access Student Info**: Click a student's profile to see transportation details.
7. **Stay Updated**: Keep your app updated for the latest features.
9. **Receive Notifications**: Stay logged in to get district notifications, even when the app is inactive.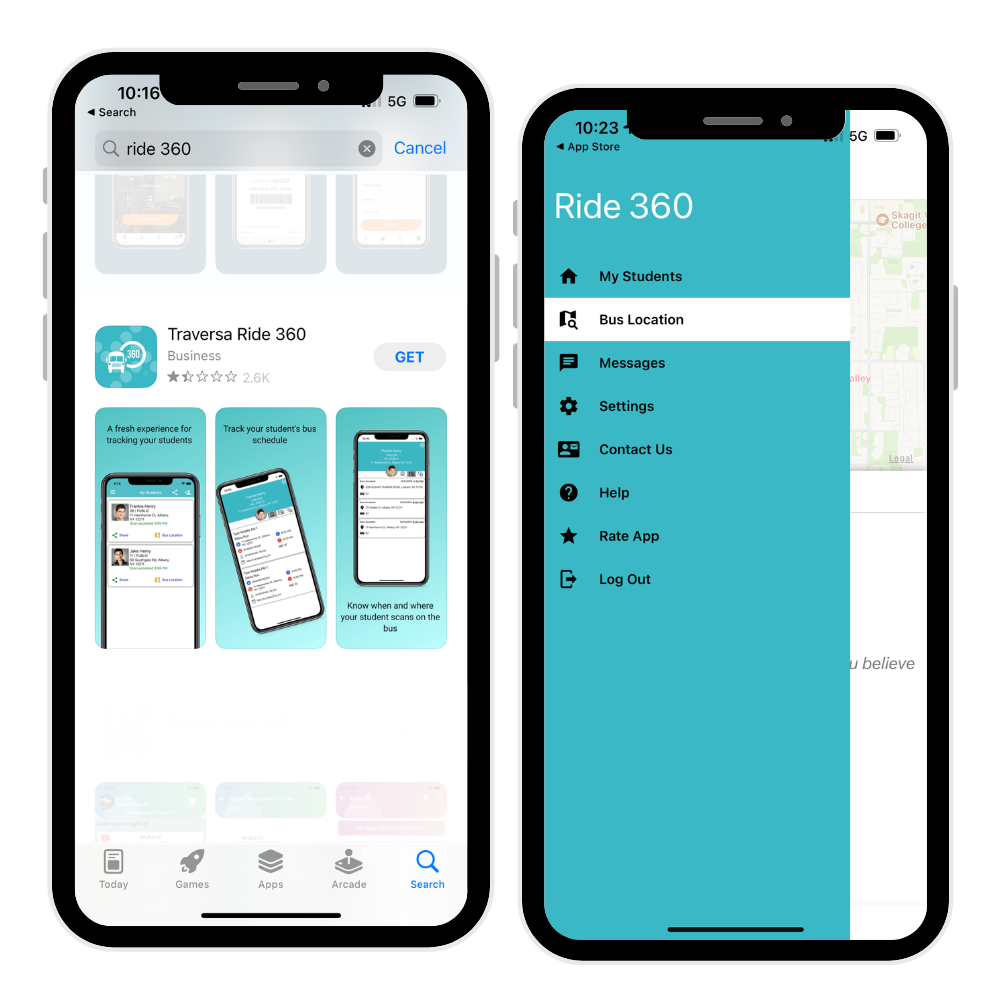 ¿Ya has descargado la aplicación Ride 360?
Aquí tienes una guía simplificada para usar la aplicación "Traversa Ride 360":
1. **Descargar la Aplicación**: Obtén "Traversa Ride 360" desde Google Play Store o Apple App Store.
2. **Instalar y Abrir**: Después de instalarla, abre la aplicación.
3. **Seleccionar tu Distrito**: Encuentra tu distrito escolar buscando el nombre del distrito de la escuela de tu hijo/a.
4. **Iniciar Sesión o Registrarse**: Si eres nuevo, haz clic en 'Registrarse'. Proporciona tu correo electrónico, contraseña y nombre. Confirma el registro a través del enlace del correo electrónico.
5. **Añadir Estudiantes**: Inicia sesión, ve a "Mis Estudiantes", haz clic en + y encuentra a tu estudiante usando la información requerida por el distrito. Repite para más estudiantes. Para ayuda, contacta a tu distrito escolar.
6. **Acceder a la Información del Estudiante**: Haz clic en el perfil de un estudiante para ver los detalles del transporte.
7. **Mantente Actualizado**: Mantén tu aplicación actualizada para las últimas características.
9. **Recibir Notificaciones**: Mantente conectado para recibir notificaciones del distrito, incluso cuando la aplicación esté inactiva.
---
Our goal is to provide safe and efficient transportation to all Mount Vernon School District students in a kind atmosphere.
Children riding school buses are under the capable supervision of qualified bus drivers. Safety is the foremost concern of the transportation department staff. Bus drivers are responsible for the safe conduct of students and are in full charge of buses. Students are responsible for their own behavior.
All students living more than one mile from their neighborhood school may ride the bus. This criteria has been established by the state of Washington, which along with the Mount Vernon School District provides the funding for school bus transportation.
Students should arrive at the bus stop five minutes before their bus is scheduled to arrive. Students are required to ride only their assigned buses.
Each year, the Mount Vernon School District, through a cooperative effort between school bus drivers and school building personnel, trains all enrolled students in how to safely evacuate a school bus in an emergency situation.
Every day, drivers see that each child is delivered safely to his or her designated bus stop. No child is allowed to get off the bus at other than his or her designated stop unless permission is given by school authorities, in the form of a bus pass, acting upon written parental request. If a child is unsure of his/her bus stop or is on the wrong bus, the child is returned to the school and parents are contacted.
All Kindergarten students must be met at the bus stop by a parent/guardian or designee each afternoon.  Kindergarten students without an adult present will be returned to school. 
Like all spaces in the Mount Vernon School District, SCHOOL BUSES ARE A BULLY-FREE ZONE 
Failure to follow District rules may result in suspension of transportation privileges.
Are you interested in becoming a bus driver?  Don't know where to start?  Becoming a bus driver is easier than you think!  
We'd love to have you join our team.  Becoming a bus driver is easier than you think and we have the resources you need to become one.  Visit the Mount Vernon School District Employment link for more information or click on the attachment below to see what it takes to be get the process started.