November 17, 2023
Happy Friday,

MVHS hosts Band and Percussion Concert
On Wednesday, MVHS held a highly successful Band and Percussion Concert. The students delivered outstanding performances to a packed auditorium, with every seat filled. Kudos to the MVHS students for their excellent job, and a big thank you to directors Jacob Scherr, Daisy Cardona-Kay, Jonathan Woods, and Anya Petroff-Howarth. Photo credit goes to the MVHS Music Department Facebook page.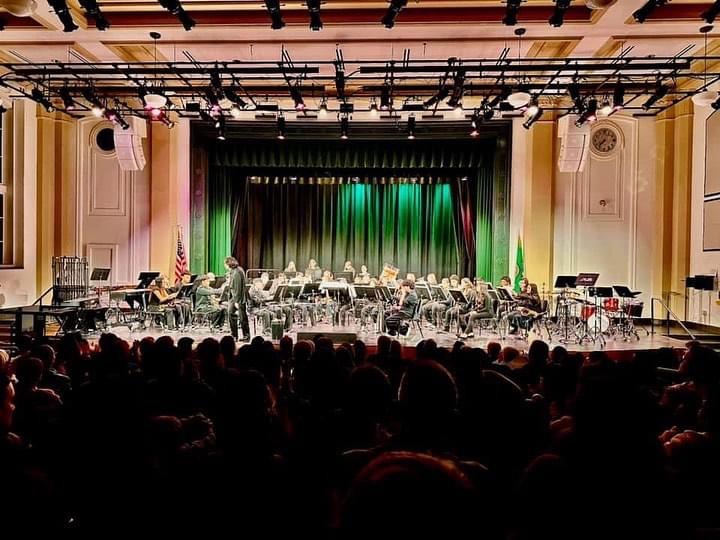 LaVenture Multicultural Night
Yesterday evening, LaVenture successfully hosted its annual Multicultural Night, attracting a remarkable turnout of over 600 attendees! The choir students from LaVenture, Mount Baker, and MVHS delivered impressive performances, as did the Folklorico students from the same schools. LaVenture's Mariachi group had their moment to shine, showcasing their musical talent. The event also featured a community brass band that captivated the audience with their outstanding performance.  The festivities included tribal singing and drumming, along with captivating performances by Pacific Islander dancers. To add to the cultural richness, there was a traditional dance from India that showcased the heritage of the performers. The night wasn't just about entertainment; it also featured delicious food and the presence of community service providers.  A special thank you to Elia Solis, as well as all of  the LaVenture staff and students who played a crucial role in making this night a resounding success!  For more pictures of last night's event, click here.  

Adaptive Mariachi & Folklorico
Adaptive Mariachi & Folklorico took the spotlight at our high school this week as King 5 covered a story featuring our talented students. The piece highlighted the program's emphasis on inclusion, making it a special showcase of diversity within our school community. A heartfelt thank you goes to teachers, Ramon Rivera, Gina Garding, and Johanna Tracy for their unwavering support and dedication to offering inclusive opportunities to our students. Special recognition is also due to Simone Steynberg, high school SLP, for her tireless efforts behind the scenes. Simone has been instrumental in teaching students how to use AAC (Augmentative and Alternative Communication) and educating staff on supporting our non and limited speaking students. AAC is indeed paving the way for greater inclusion in our school!  If you'd like to watch the King 5 story, you can find it here.  
Reading Proficiency Initiative
Through the unified and consistent implementation of the recently adopted American Reading Company curriculum across all elementary schools, we expect at least 80% of all elementary students in the Mount Vernon School District to be reading at/above grade level proficiency by the end of our fifth year of implementation in June 2027.  To make measured progress toward this goal, each elementary school used reading proficiency data from the end of the 2022-2023 school year to set quarterly improvement aims for their building for the current school year.  Congratulations to the staff at Washington Elementary for meeting their improvement aim for the first quarter of the 2023-2024 school year! They are well on their way to reaching their yearly improvement goal!
Promising Venture in Middle School Mathematics
In October, MVSD middle school math teachers launched a field study into a new math curriculum, MidSchoolMath. Early indicators are promising! Students are engaging in deep conversations about math, connecting mathematical applications through real life scenarios, and expanding their critical thinking skills. It takes a lot of work for teachers to shift curriculums mid-stream, and we greatly appreciate all of our math teachers learning together to implement this curriculum with integrity. Please see some pictures of happy middle school mathematicians from Charlie Haney's classroom at LaVenture earlier this week.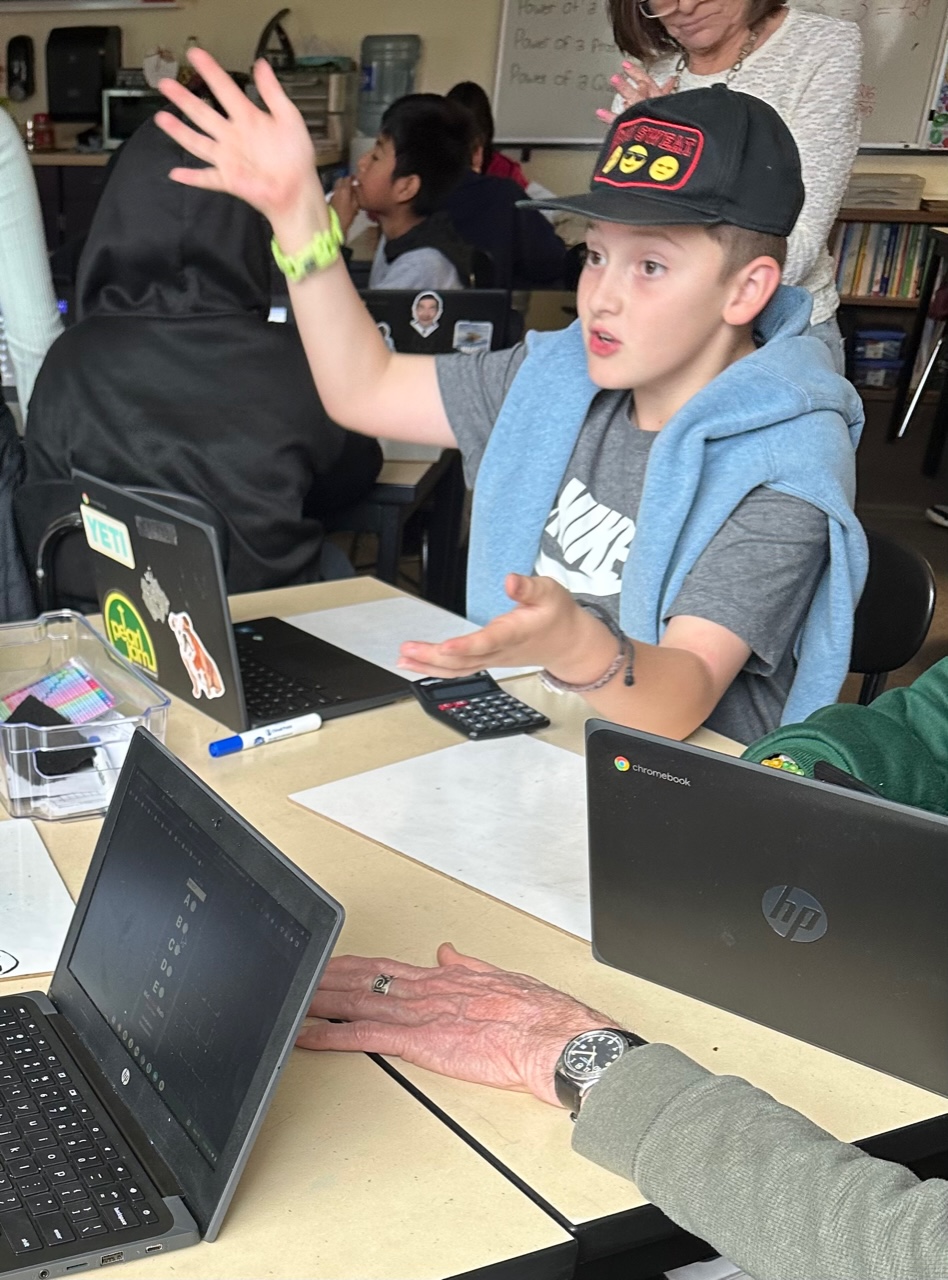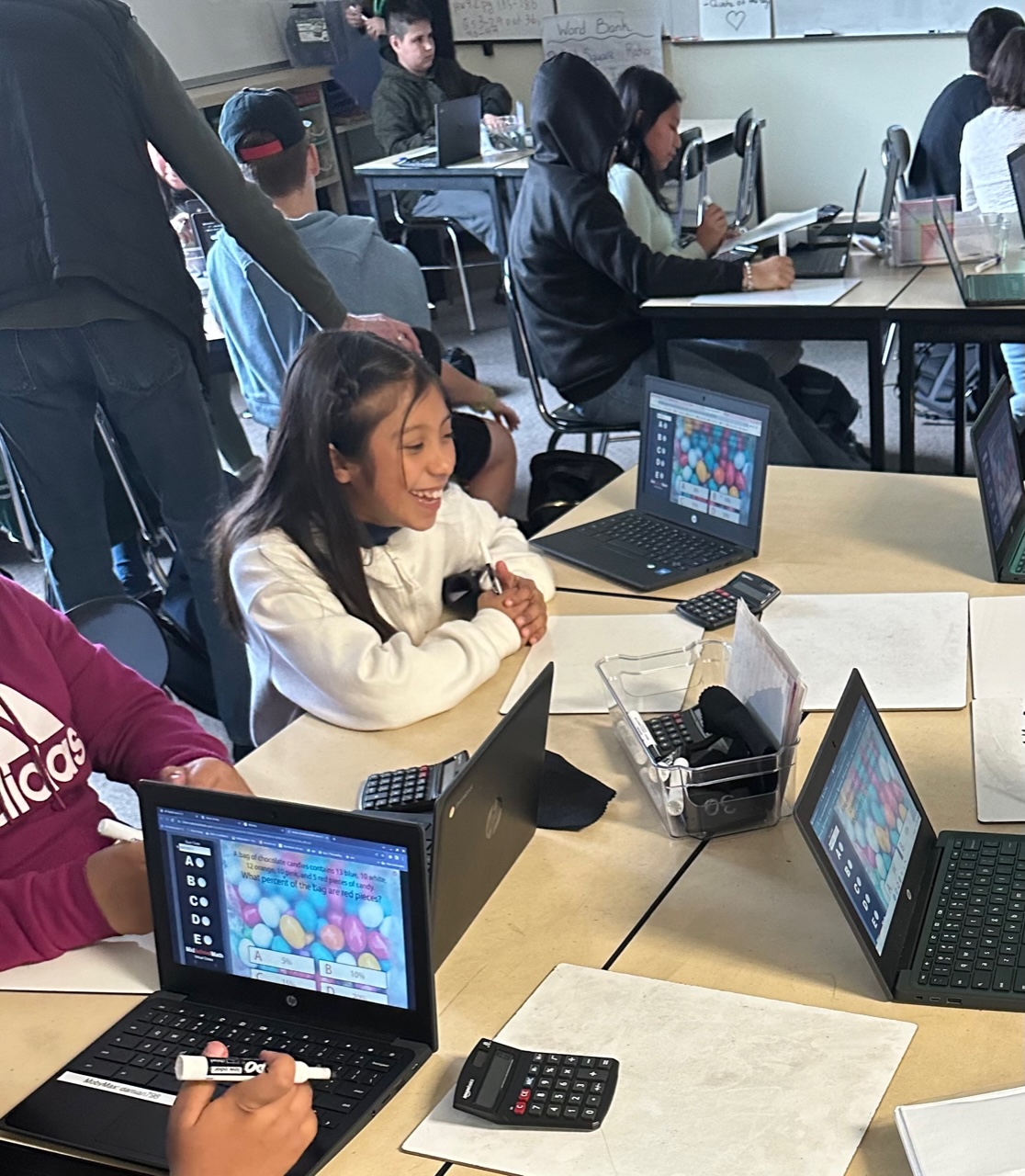 Exploring Pillar 1: Mission, Vision, and Core Values through Classroom Visits
This week, I had the privilege of visiting classrooms at Little Mountain. These visits not only allowed me to connect with our outstanding staff and students, but also provided a firsthand look at the impactful work happening in our buildings every day. I spent time interacting with students in several classrooms. I want to thank Martha Thornburgh, Stacie Kelsey, Daniel Portal, Abigail Linder, Sara Parra, Veronica Gonzalez, Tracy Hall, Kayle Whatmae, and Trina Uppendahl. Witnessing students actively engaged in the learning process was truly inspiring. I want to express appreciation to the staff for generously welcoming me into their classrooms and allowing me to observe their dedicated efforts. If you would like me to visit your classroom, please feel free to reach out to me at any time.
Jurassic STEAM Symposium Experience
Recently, students had an opportunity to visit the Jurassic STEAM Symposium.  This unique opportunity allowed students to engage with TRIO alumni employed in STEAM fields at organizations such as NASA, Microsoft, and Meta. Students  also participated in a STEAM-centered college and career fair, gaining insights into networking, resume building, and interview skills. 

Latino Health Forum Engagement
At the beginning of this week, three members of our staff actively took part in the Latino Health Forum. Iris Carias, Monica Bustamante Salamanca, Isabel Zaragoza-Sanchez presented at the annual Latino Health Forum hosted by SeaMar, shedding light on their collaborative efforts with the Mount Vernon School District. The district maintains a close partnership with SeaMar, allowing the team to be embedded within the school district, and plays a crucial role in our collaborative efforts, effectively bridging the access gap for numerous MEP (Migrant Education Program) families.  Thank you Iris, Monica, and Isabel for your work within our community and schools.  

Centennial Music Teacher, Rene Godina, Secures Spot in Macy's Parade
Rene Godina, music teacher at Centennial, is set to embark on a unique opportunity next week as he joins the Macy Parade festivities. Rene will spend five days in New York, featuring a special performance at the 9/11 Memorial and marching in the Macy's Parade on Thanksgiving morning. Among the 400 band directors from across the USA, he stands out as one of the five directors representing the State of Washington in this iconic parade. Congratulations, Rene! Let's cheer on our MVSD teacher as we watch the parade on TV!

Rotary Students of the Month
Hats off to Sophia Grechishkin and Quinn Swanson, chosen as the November Students of the Month for the Rotary Club of Mount Vernon. These students received recognition during a Rotary meeting, where they had the chance to introduce themselves and discuss their future aspirations. Well done, Sophia and Quinn!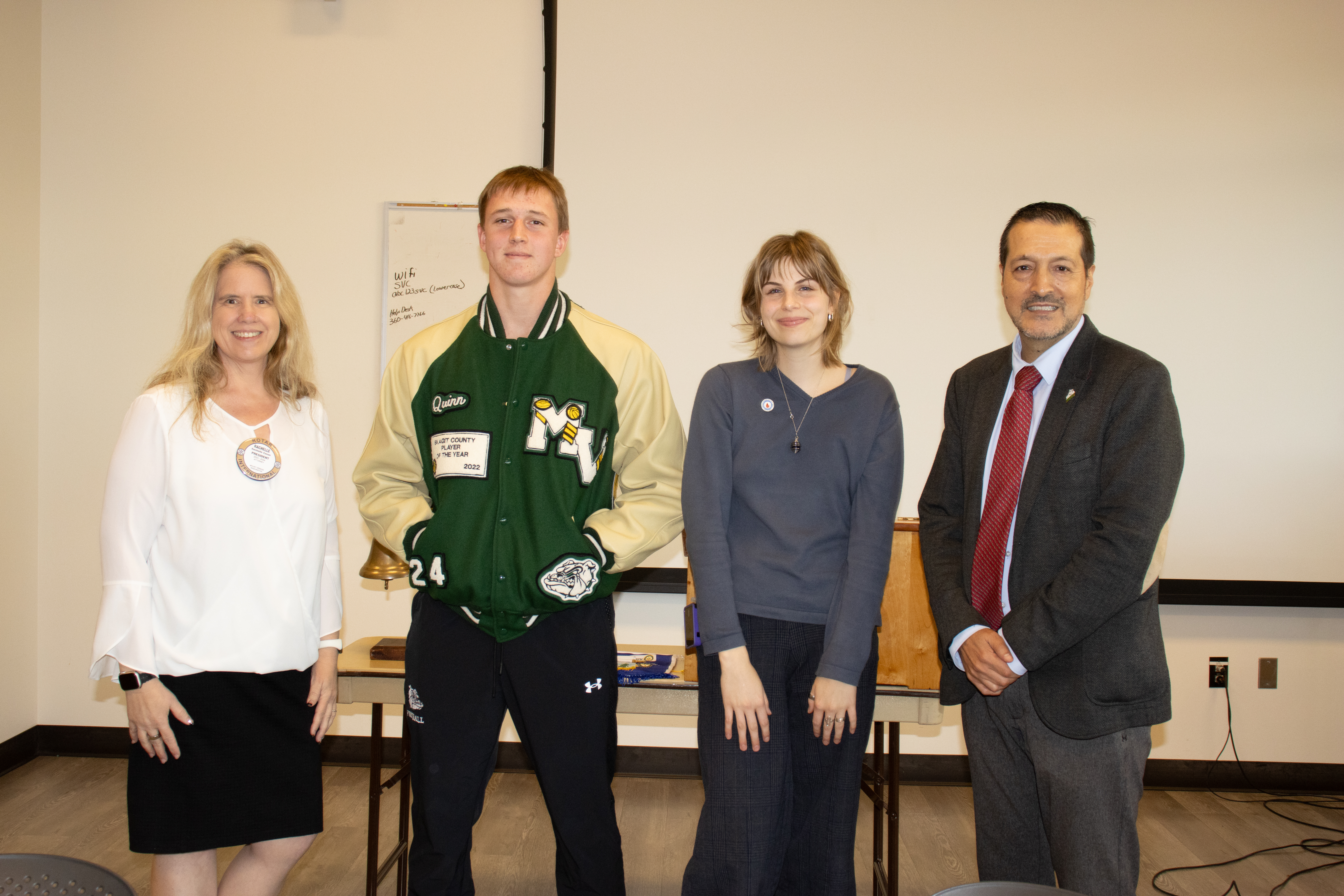 MVSD hosts special guest
The Mount Vernon School District is excited to host Austina De Bonte, former President of the Northwest Gifted Child Association and a nationally recognized expert in the cognitive, social, and emotional development of Highly Capable children. Her presentation, titled "Smart Is Not Easy: What Research Says About Highly Capable Learners," is set to take place on Monday, November 27, from 6:00 to 8:00 PM at the Mount Vernon High School Auditorium. This event is free and open to the public, targeting parents, teachers, and administrators. Although students are welcome, please note that the content may be dense, and some children may find it challenging to maintain attention. Spanish translation will be available at the event. After reviewing the attached flier, please complete this Google Form if you plan to attend.
RSVP Form

MVHS Cheer Winter Youth Camp & Parade
The annual MVHS Cheer Winter Youth Camp & Parade, hosted by MVHS Cheer, is just around the corner! To register and find comprehensive information about the camp, including details on dates, times, and locations, click on this link. Participants in grades 1st-8th are invited to join as they walk alongside MVHS Cheerleaders during the MV Downtown Christmas Parade on Sunday, December 3rd.
MVHS Athletics Fundraiser
Are you looking for MVHS athletic gear?  Here's a great opportunity to sport our logo and support the MVHS Athletics Fundraiser. 
MVHS Music Boosters
The MVHS Percussion Ensemble (sponsored by the MVHS Music Boosters) is currently raising funds to help purchase a new 5 Octave Marimba! Students are working incredibly hard and have been invited to perform at the Washington Music Educators Association State Conference in 2024, and they need this instrument for the upcoming performance. If you would like to help them reach their goal, please click on this link . 
Kudos
If you have a positive comment about a student or staff member, let us know so we can share it district-wide.
Kudos to the LUCHA group, under the leadership of Mrs. Gonzalez at MVHS. Eighteen of her students volunteered for this year's Fall Festival at Harriet Rowley! The presence of these high schoolers was greatly enjoyed by the elementary students, and their interactions were truly wonderful.  Thank you Mrs. Gonzalez and LUCHA students! 

Upcoming Events:
Month-long Celebrations: Native American Heritage Month, American Diabetes Month, National Epilepsy Awareness Month, National Scholarship Month
November 17th: Substitute Educators Day
              Girls Bowling V/JV vs. Burlington 3:15pm (Riverside Lanes)
November 18th: MVHS Music Craft Fair 9am-3pm @ MVHS
November 20th: SEBB open enrollment ends
November 23rd & 24th: Thanksgiving break-no school

Share a Shout Out! 
We are excited to share the wonderful "Share a Shout Out" recipients from this week!  Let's keep those positive comments coming in!  To "Share a Shout Out" you can click here.  

Positive Tip for the Day:  "All things are connected, like the blood that unites us.  We do not weave the web of life, we are merely a stand in it.  Whatever we do to the web, we do to ourselves." Chief Seattle 
This quote, reflects the idea of interconnectedness and the interdependence of all living things. The analogy of the blood that unites us suggests a shared essence or commonality among all beings and emphasizes humility and the understanding that humans are part of a larger, intricate system of life on Earth.  Chief Seattle is highlighting the concept of environmental stewardship and the recognition that harm to the interconnected web of life ultimately affects humanity. It encourages a sense of responsibility and mindfulness in how humans interact with and impact the natural world.  In observance of Native American Heritage Month, I'd like to share a website that highlights the various tribes in the state of Washington. We acknowledge and celebrate the numerous contributions made by Native Americans in shaping the fabric of our schools, valleys, state, and country.
Please take care of yourself and each other!
Board Meeting questions and/or public comments
Any questions we receive at the board meeting are shared and answered here. Below are the responses to this week's questions.  

Q. [Regarding student attendance presentation] I don't know any parents that have seen this.  We had an interesting conversation with Tim at Jefferson about attendance outreach last week and most of us (Parent Group parents) had no idea about this, or the protocols/processes.
A. Absences are one of the key early warning indicators of not finishing high school. Absences can often be the first signal that a student is facing barriers or challenges (such as academics, health concerns, transportation, not feeling safe, etc).  The state, and as such, the Mount Vernon School District monitors the percentage of students who attend school regularly each month. By definition, a student who attends regularly misses no more than 2 days of school per month on average or 10% (or 18 days) of the 180 school year.  The regular attendance percentages by school for September and October are linked here. Families can reach out to their building principal for more information about regular attendance or for support with reducing barriers to their child's regular attendance at school. 
---
Feliz viernes,
MVHS presenta concierto de banda y percusión
El miércoles, MVHS celebró un exitoso concierto de banda y percusión. Los estudiantes realizaron actuaciones sobresalientes en un auditorio lleno, con todos los asientos ocupados. Felicitaciones a los estudiantes de MVHS por su excelente trabajo y un gran agradecimiento a los directores Jacob Scherr, Daisy Cardona-Kay, Jonathan Woods y Anya Petroff-Howarth. El crédito de la foto corresponde a la página de Facebook del Departamento de Música de MVHS.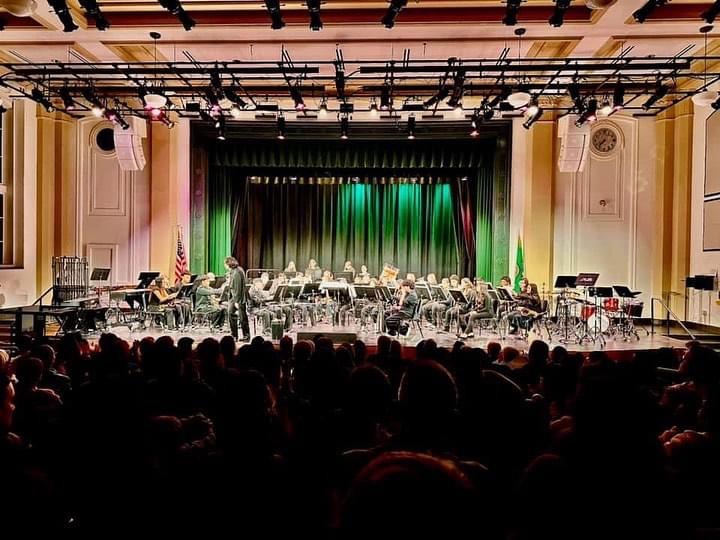 LaVenture organizó con éxito su Noche Multicultural anual
¡LaVenture organizó con éxito su Noche Multicultural anual, atrayendo una notable participación de más de 600 asistentes! Los estudiantes del coro de LaVenture, Mount Baker y MVHS realizaron actuaciones impresionantes, al igual que los estudiantes de folklórico de las mismas escuelas. El grupo Mariachi de LaVenture tuvo su momento de brillar, mostrando su talento musical. El evento también contó con una banda de música comunitaria que cautivó a la audiencia con su destacada actuación.
Las festividades incluyeron cantos y tambores tribales, junto con actuaciones cautivadoras de bailarines de las islas del Pacífico. Para aumentar la riqueza cultural, hubo una danza tradicional de la India que mostró la herencia de los artistas. La noche no se trató sólo de entretenimiento; también contó con comida deliciosa y la presencia de proveedores de servicios comunitarios.  ¡Un agradecimiento especial a Elia Solis, así como a todo el personal y estudiantes de LaVenture que desempeñaron un papel crucial para hacer de esta noche un éxito rotundo!  Para mas fotos haga clic aqui.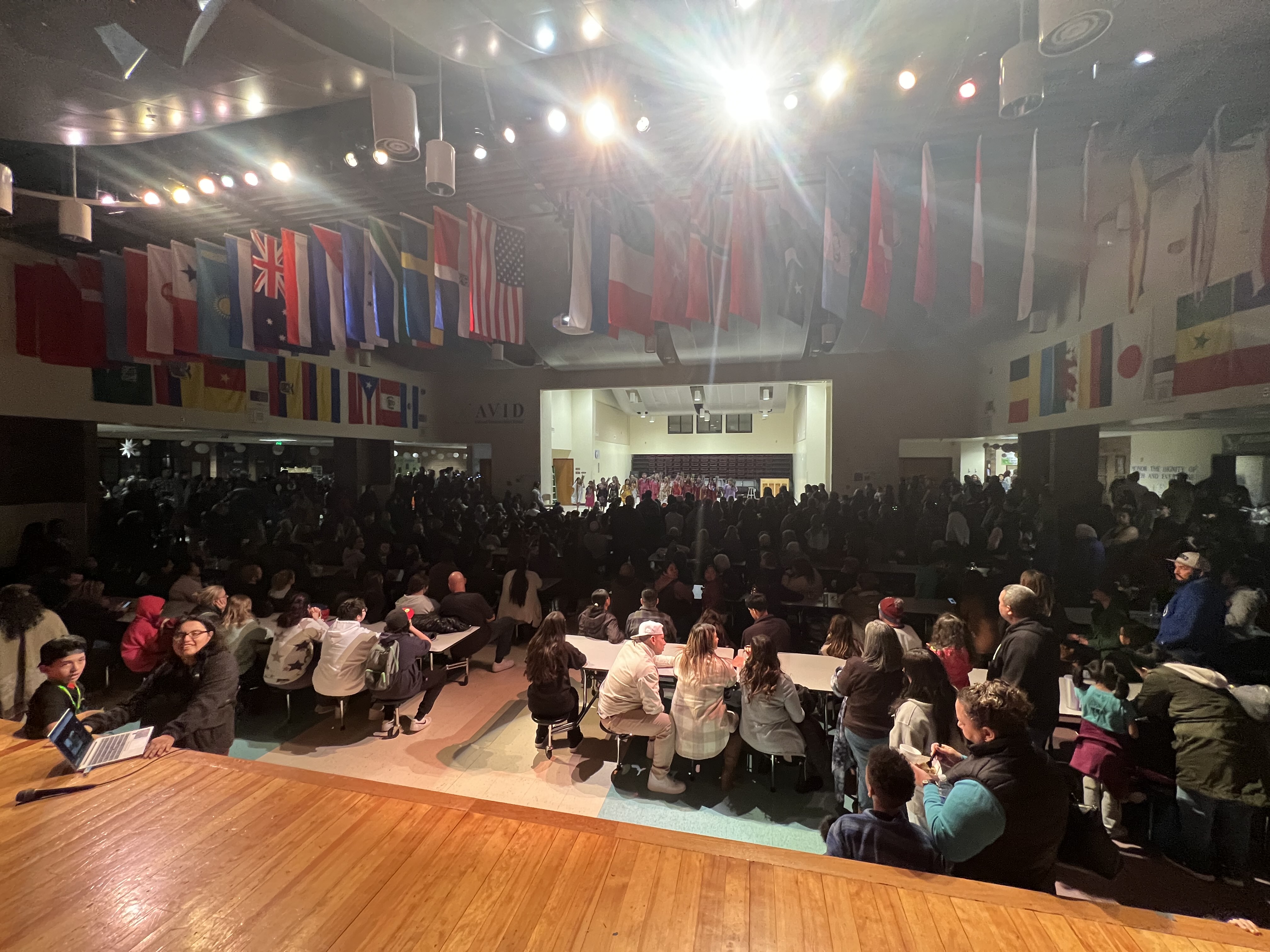 Mariachi y Folklórico Adaptativo
El Mariachi y Folklórico Adaptativo fueron el centro de atención en nuestra escuela secundaria esta semana cuando King 5 cubrió una historia protagonizada por nuestros talentosos estudiantes. El artículo destacó el énfasis del programa en la inclusión, convirtiéndolo en una muestra especial de diversidad dentro de nuestra comunidad escolar. Un sincero agradecimiento a los maestros Ramón Rivera, Gina Garding y Johanna Tracy por su inquebrantable apoyo y dedicación para ofrecer oportunidades inclusivas a nuestros estudiantes. También se debe un reconocimiento especial a Simone Steynberg, SLP de secundaria, por sus incansables esfuerzos detrás de escena. Simone ha sido fundamental para enseñar a los estudiantes cómo utilizar CAA (comunicación aumentativa y alternativa) y para educar al personal sobre cómo apoyar a nuestros estudiantes que no hablan o tienen un habla limitada. ¡De hecho, CAA está allanando el camino para una mayor inclusión en nuestra escuela! Si desea ver la historia de King 5, puede encontrarla aquí.
Iniciativa de dominio de la lectura
A través de la implementación unificada y consistente del plan de estudios de American Reading Company recientemente adoptado en todas las escuelas primarias, esperamos que al menos el 80% de todos los estudiantes de primaria en el Distrito Escolar de Mount Vernon lean al nivel de su grado o por encima de él al final de nuestro quinto año escolar. año de implementación en junio de 2027. Para lograr un progreso medido hacia esta meta, cada escuela primaria utilizó datos de competencia en lectura del final del año escolar 2022-2023 para establecer objetivos de mejora trimestrales para su edificio para el año escolar actual. ¡Felicitaciones al personal de la Primaria Washington por alcanzar su objetivo de mejora para el primer trimestre del año escolar 2023-2024! ¡Están en camino de alcanzar su objetivo de mejora anual!
Emprendimiento prometedor en matemáticas de secundaria
En octubre, los profesores de matemáticas de la escuela intermedia de MVSD lanzaron un estudio de campo sobre un nuevo plan de estudios de matemáticas, MidSchoolMath. ¡Los primeros indicadores son prometedores! Los estudiantes participan en conversaciones profundas sobre matemáticas, conectan aplicaciones matemáticas a través de escenarios de la vida real y amplían sus habilidades de pensamiento crítico. Se necesita mucho trabajo para que los maestros cambien los planes de estudio a mitad de camino, y apreciamos mucho que todos nuestros maestros de matemáticas aprendan juntos a implementar este plan de estudios con integridad. Vea algunas fotografías de matemáticos felices de la escuela secundaria del aula de Charlie Haney en LaVenture a principios de esta semana.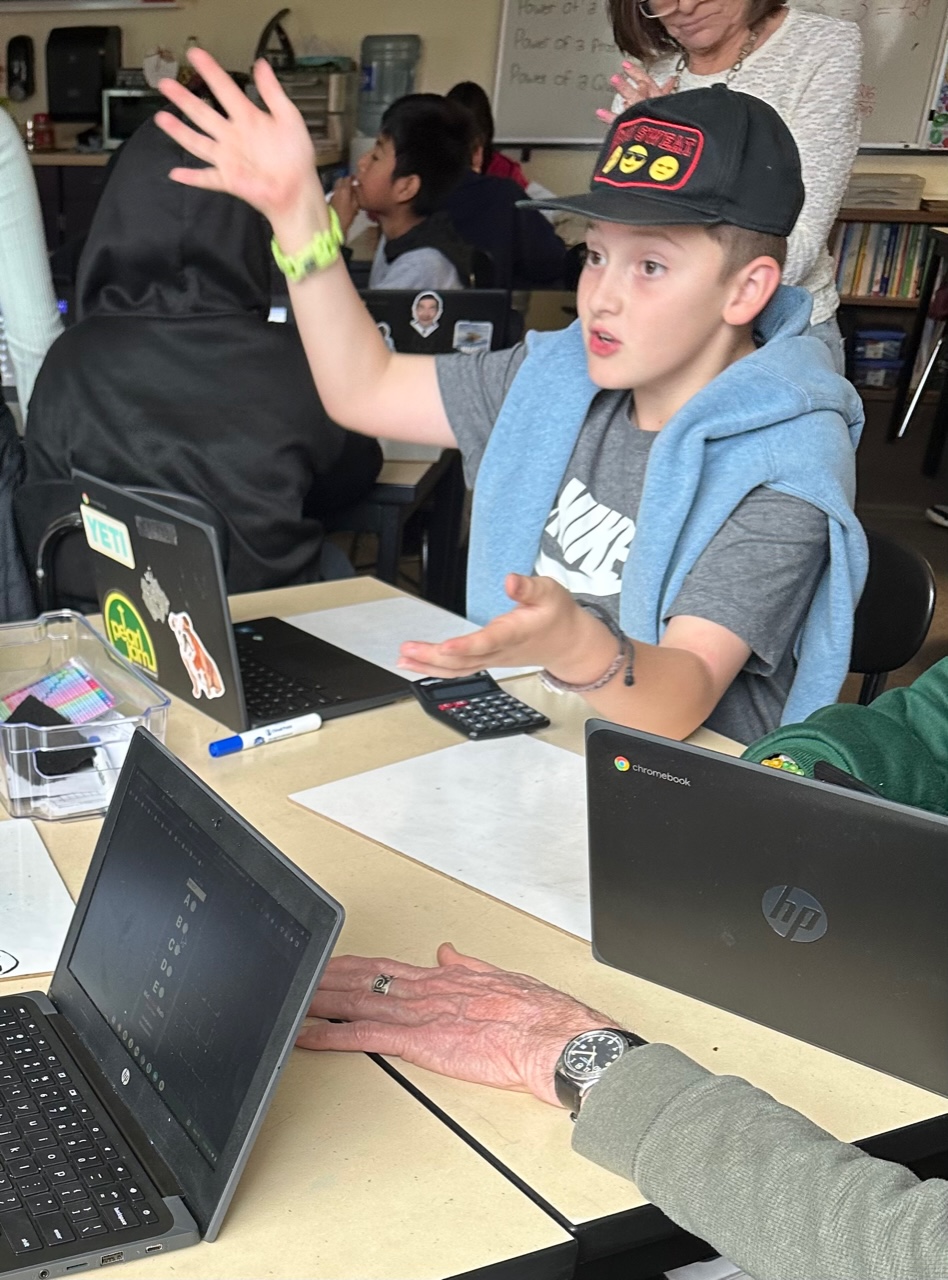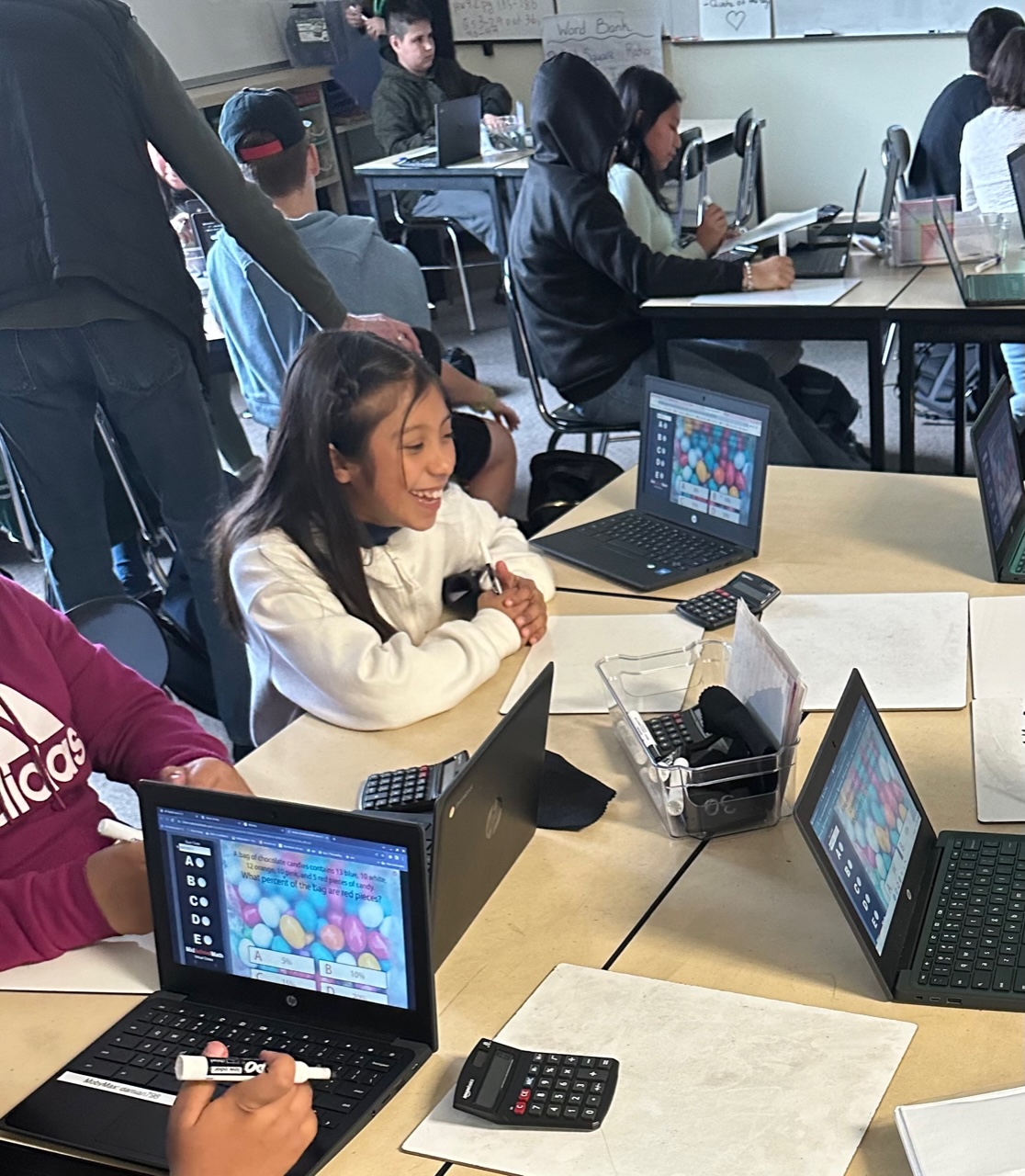 Explorando el Pilar 1: Misión, Visión y Valores Fundamentales a través de visitas a las aulas
Esta semana tuve el privilegio de visitar las aulas de Little Mountain. Estas visitas no solo me permitieron conectarme con nuestro destacado personal y estudiantes, sino que también me brindaron una mirada de primera mano al impactante trabajo que se realiza en nuestros edificios todos los días. Pasé tiempo interactuando con estudiantes en varias aulas. Quiero agradecer a Martha Thornburgh, Stacie Kelsey, Daniel Portal, Abigail Linder, Sara Parra, Verónica González, Tracy Hall, Kayle Whatmae y Trina Uppendahl. Ver a los estudiantes participar activamente en el proceso de aprendizaje fue realmente inspirador. Quiero expresar mi agradecimiento al personal por darme la bienvenida generosamente a sus aulas y permitirme observar sus esfuerzos dedicados. Si desea que visite su salón de clases, no dude en comunicarse conmigo en cualquier momento.
Experiencia del Simposio Jurassic STEAM
Recientemente, los estudiantes tuvieron la oportunidad de visitar el Simposio Jurassic STEAM. Esta oportunidad única permitió a los estudiantes interactuar con ex alumnos de TRIO empleados en campos STEAM en organizaciones como NASA, Microsoft y Meta. Los estudiantes también participaron en una feria universitaria y profesional centrada en STEAM, donde obtuvieron información sobre cómo establecer contactos, crear currículums y habilidades para entrevistas.
Participación en el Foro Latino de Salud
A principios de esta semana, tres miembros de nuestro personal participaron activamente en el Foro de Salud Latina. Iris Carias, Mónica Bustamante Salamanca e Isabel Zaragoza-Sánchez presentaron en el Foro anual de salud latina organizado por SeaMar, arrojando luz sobre sus esfuerzos de colaboración con el Distrito Escolar de Mount Vernon. El distrito mantiene una estrecha asociación con SeaMar, lo que permite que el equipo se integre dentro del distrito escolar y desempeña un papel crucial en nuestros esfuerzos de colaboración, cerrando efectivamente la brecha de acceso para numerosas familias del MEP (Programa de Educación para Migrantes). Gracias Iris, Mónica e Isabel por su trabajo dentro de nuestra comunidad y escuelas.

René Godina, profesor de música del Centenario, asegura un lugar en el desfile de Macy's
René Godina, profesor de música de Centennial, se embarcará en una oportunidad única la próxima semana al unirse a las festividades del Macy Parade. René pasará cinco días en Nueva York, presentando una actuación especial en el Memorial del 11 de septiembre y marchando en el desfile de Macy's la mañana de Acción de Gracias. Entre los 400 directores de bandas de todo Estados Unidos, se destaca como uno de los cinco directores que representan al estado de Washington en este icónico desfile. ¡Felicidades, René! ¡Animamos a nuestro maestro de MVSD mientras miramos el desfile por televisión!

Estudiantes Rotarios del Mes
Felicitaciones a Sophia Grechishkin y Quinn Swanson, elegidas como las Estudiantes del mes de noviembre por el Club Rotario de Mount Vernon. Estos estudiantes recibieron un reconocimiento durante una reunión de Rotary, donde tuvieron la oportunidad de presentarse y discutir sus aspiraciones futuras. ¡Bien hecho, Sofía y Quinn!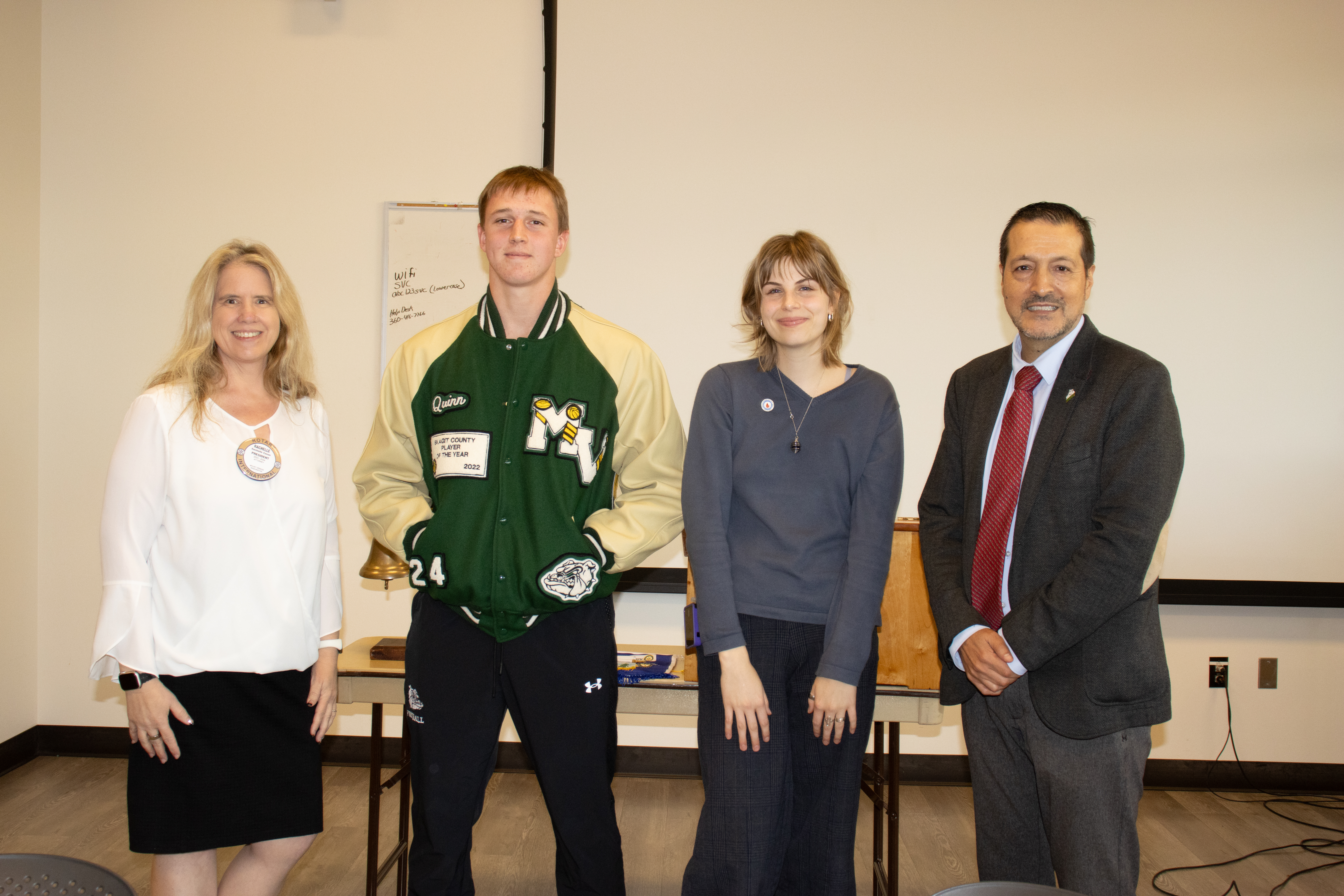 MVSD recibe un invitado especial
El Distrito Escolar de Mount Vernon se complace en recibir a Austina De Bonte, ex presidenta de la Asociación de Niños Superdotados del Noroeste y experta reconocida a nivel nacional en el desarrollo cognitivo, social y emocional de niños altamente capaces. Su presentación, titulada "La inteligencia no es fácil: lo que dicen las investigaciones sobre los estudiantes altamente capaces", se llevará a cabo el lunes 27 de noviembre de 6:00 a 8:00 p. m. en el auditorio de la escuela secundaria Mount Vernon. Este evento es gratuito y abierto al público, dirigido a padres, maestros y administradores. Aunque los estudiantes son bienvenidos, tenga en cuenta que el contenido puede ser denso y que a algunos niños les puede resultar difícil mantener la atención. Habrá traducción al español disponible en el evento. Después de revisar el folleto adjunto, complete este formulario de Google si planea asistir.
Formulario de confirmación de asistencia
Desfile y campamento juvenil de invierno Cheer de MVHS
¡El desfile y campamento juvenil de invierno anual de MVHS Cheer, organizado por MVHS Cheer, está a la vuelta de la esquina! Para registrarse y encontrar información completa sobre el campamento, incluidos detalles sobre fechas, horarios y ubicaciones, haga clic en este enlace. Los participantes de 1.º a 8.º grado están invitados a unirse mientras caminan junto a las porristas de MVHS durante el Desfile de Navidad de MV en el centro el domingo 3 de diciembre.
Recaudación de fondos para atletismo de MVHS
¿Estás buscando equipo deportivo de MVHS? Esta es una gran oportunidad para lucir nuestro logotipo y apoyar la recaudación de fondos de atletismo de MVHS.
Impulsores de música MVHS
¡El MVHS Percussion Ensemble (patrocinado por MVHS Music Boosters) actualmente está recaudando fondos para ayudar a comprar una nueva marimba de 5 octavas! Los estudiantes están trabajando increíblemente duro y han sido invitados a actuar en la Conferencia Estatal de la Asociación de Educadores de Música de Washington en 2024, y necesitan este instrumento para la próxima presentación. Si desea ayudarlos a alcanzar su objetivo, haga clic en este enlace.
Prestigio
Si tiene un comentario positivo sobre un estudiante o miembro del personal, háganoslo saber para que podamos compartirlo en todo el distrito.
Felicitaciones al grupo LUCHA, bajo el liderazgo de la Sra. González en MVHS. ¡Dieciocho de sus estudiantes se ofrecieron como voluntarios para el Festival de Otoño de este año en Harriet Rowley! Los estudiantes de primaria disfrutaron mucho la presencia de estos estudiantes de secundaria y sus interacciones fueron realmente maravillosas. ¡Gracias Sra. González y estudiantes de LUCHA!
Próximos Eventos:
Celebraciones de un mes de duración: Mes de la Herencia Nativa Americana, Mes Estadounidense de la Diabetes, Mes Nacional de Concientización sobre la Epilepsia, Mes Nacional de las Becas
17 de noviembre: Día de los Educadores Suplentes
Girls Bowling V/JV vs. Burlington 3:15 p.m. (Riverside Lanes)
18 de noviembre: Feria de artesanía musical de MVHS de 9 am a 3 pm en MVHS
20 de noviembre: finaliza la inscripción abierta a SEBB
23 y 24 de noviembre: vacaciones de Acción de Gracias, no hay clases

¡Comparte un saludo!
¡Estamos emocionados de compartir los maravillosos destinatarios de "Share a Shout Out" de esta semana! ¡Sigamos llegando esos comentarios positivos! Para "Compartir un saludo" puede hacer clic aquí.
Consejo positivo del día: "Todas las cosas están conectadas, como la sangre que nos une. No tejemos la red de la vida, somos simplemente un soporte en ella. Todo lo que le hacemos a la web, nos lo hacemos a nosotros mismos". Jefe Seattle
Esta cita refleja la idea de interconexión y la interdependencia de todos los seres vivos. La analogía de la sangre que nos une sugiere una esencia compartida o algo común entre todos los seres y enfatiza la humildad y la comprensión de que los humanos son parte de un sistema de vida más amplio e intrincado en la Tierra. El Jefe Seattle destaca el concepto de gestión ambiental y el reconocimiento de que el daño a la red interconectada de la vida afecta en última instancia a la humanidad. Fomenta un sentido de responsabilidad y atención plena en la forma en que los humanos interactúan con el mundo natural y lo impactan. En conmemoración del Mes de la Herencia Nativa Americana, me gustaría compartir un sitio web que destaca las distintas tribus del estado de Washington. Reconocemos y celebramos las numerosas contribuciones realizadas por los nativos americanos en la configuración de nuestras escuelas, valles, estado y país.
¡Por favor cuídense a ustedes mismos y a los demás!
Preguntas y/o comentarios públicos de la reunión de la junta directiva
Cualquier pregunta que recibamos en la reunión de la junta directiva se comparte y se responde aquí. A continuación se encuentran las respuestas a las preguntas de esta semana.

P. [Con respecto a la presentación de asistencia de los estudiantes] No conozco a ningún padre que haya visto esto. Tuvimos una conversación interesante con Tim en Jefferson sobre el alcance de asistencia la semana pasada y la mayoría de nosotros (padres del grupo de padres) no teníamos idea de esto, ni de los protocolos/procesos.
R. Las ausencias son uno de los indicadores clave de alerta temprana de no terminar la escuela secundaria. Las ausencias a menudo pueden ser la primera señal de que un estudiante enfrenta barreras o desafíos (como académicos, problemas de salud, transporte, no sentirse seguro, etc.). El estado, y como tal, el Distrito Escolar de Mount Vernon, monitorea el porcentaje de estudiantes que asisten a la escuela regularmente cada mes. Por definición, un estudiante que asiste regularmente no pierde más de 2 días de escuela por mes en promedio o el 10% (o 18 días) del año escolar. Los porcentajes de asistencia regular por escuela para septiembre y octubre están vinculados aquí. Las familias pueden comunicarse con el director de su edificio para obtener más información sobre la asistencia regular o para obtener ayuda para reducir las barreras a la asistencia regular de sus hijos a la escuela.