May 19, 2023
Happy Friday, 
National Speech Language Pathologist day
This week we celebrated National Speech Language Pathologist day.  We have an amazing team that serves our MVSD students.  They are: Melinda Bowen, Crystal Conway, Kate Dugan, Kelly Fisher, Sophie Kangas, Bethany Kelley, Sara Larsen-Cooper, Misty Parker, Abbey Stratton, Simone Steynberg, Merry Sullivan, and Sheila Davis.  Thank you for all you do! 

AVID Senior Night
Last night we had 117 students participate in this year's AVID Senior Night. It is a heart-warming experience to watch the students and families bask in the pride of their successes. Many are not only first-generation college-bound, but first generation-high school graduates!  All of them have worked diligently towards their success, knowing it is not just for them but also for their families.  AVID teachers shared their heartfelt best wishes to each of their students.  A special thank you to Ali Lilly and her team, who all did a wonderful job in making this event come to fruition!  We also appreciate the ongoing hard work of our AVID tutors and teachers.   It was an honor to recognize them for their hard work, perseverance, and grit.  I encourage you to take a closer look at our graduating AVID students, their accomplishments, and their next chapter in life. 

Morning Tea with Dr. V
During the latest edition of Morning Tea with Dr. V, Equity Director David Rodriguez joined us to discuss our Parent Advisory Council (PAC) program. We also had the chance to chat with two PAC parents who shared their own experiences with the program. Our parent leaders recently participated in a training and networking event, fostering relationships and exchanging knowledge. During our conversation, the leaders discussed the migrant summer school opportunities available this year.  You can watch the video here.  

Kitchen Wars
The NCTA Kitchen Wars event was a big success!  The event had over 250 guests in attendance and raised over $5,000 for the NCTA General Advisory Committee Foundation. These funds will help develop and enrich the student leadership program.  Students had an opportunity to compete in a high-level competition with other classmates, consisting of 34 students and 10 teams.  This was a collaborative effort between other programs within NCTA.  Many students in other departments took part in promoting, coordinating, and orchestrating the fun-filled night.  NCTA staff and the Foundation thanked all of the local businesses who donated to the silent auction, the students, who participated in the night's event, and the families and community who attended.  

MVHS TV students learning more about settlement
I had an opportunity to share about a settlement that the MVSD was part of, better known as the Juul settlement. Our students had some great questions that will better help share what the process was, and what the district will be receiving after the settlement.  You can watch the video here.  

MVHS hosts spring market
The SLC program at MVHS is hosting their "Especially Made Spring Market" on Thursday May 25th from 9am-2pm in PB6. There will be an assortment of items for sale including mugs adorned with student art, tote bags, magnets, handmade crayons, and a variety of original art pieces. All parts of the business process are performed by our students as a way to build job skills that will benefit them in the adult world. All proceeds go back into the SLC program and fund student centered materials and activities.   Be sure to check it out if you can.
MV Mariachi and Folklorico featured on KING 5 News Seattle
This week, King 5 Newscast, featured a new story on our World Famous MV Mariachi Program, and Mr. Rivera, "MVSD seeing Mariachi Music Investment pay off".  I hope you get a chance to watch, and hear from our students.  Diana Soriano, a sophomore at Mount Vernon High School says in the video "I wouldn't trade taking this class for anything – not for a million bucks, not for a new life, nothing…" You can find the video here.  I am also including a picture of one of our Mariachi Superstar students, Brooklyn Talbot, she is all smiles seeing herself on TV! Go Bulldogs!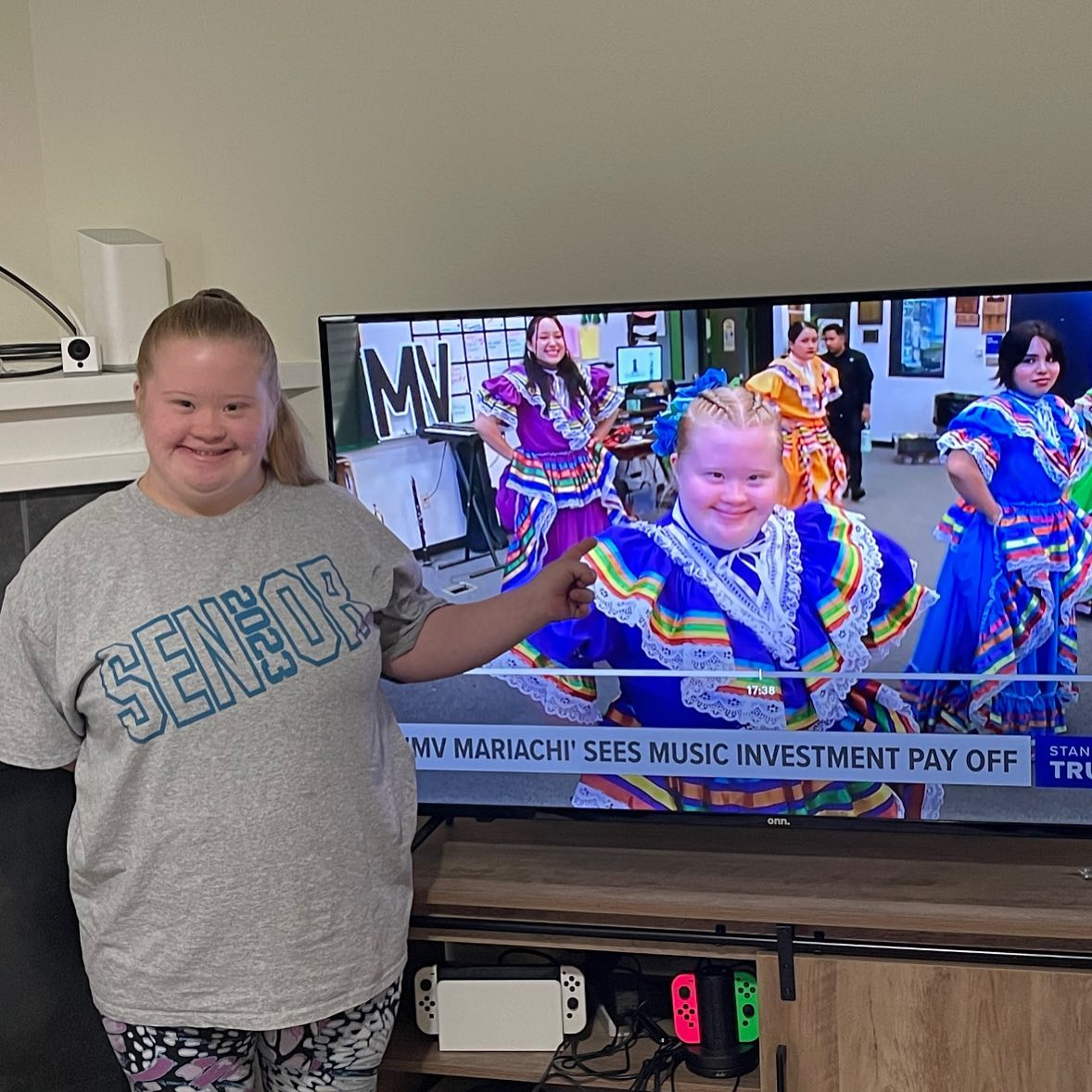 Latinos in Action Washington State Conference Video Release
Another great video to check out is this new video of the Washington State Latino in Action (LIA) Conference at Skagit Valley College. The LIA video features 150 MVHS Latinos in Action Students and Mr. Sixto, Mr. Rivera, Mr. Flores, and Mr. Serrano shining at the Washington State LIA Conference featuring Keynote Speaker, Astronaut Jose Hernandez.  You can find the video here.  
Shout Outs
Litzey Serrano was the recipient of this year's WALAS (Washington Association of Latino Administrators and Superintendents) scholarship.  Litzey submitted an essay that thanked Mrs. Nora Gonzalez from LaVenture Middle School. Thank you Litzey for sharing your story, and Mrs. Gonzalez for impacting our students.  Congratulations, Litzey! 

Upcoming Events: 
May 19, 2023 MVHS Music Department Senior Night 7pm MVHS Cafeteria
May 29, 2023 Memorial Day
Please stay healthy and safe!
El 19 de marzol de 2023
Feliz viernes,
Día Nacional del Patólogo del Habla y Lenguaje
Esta semana celebramos el Día Nacional del Patólogo del Habla y Lenguaje. Tenemos un equipo increíble que sirve a nuestros estudiantes de MVSD. Ellos son: Melinda Bowen, Crystal Conway, Kate Dugan, Kelly Fisher, Sophie Kangas, Bethany Kelley, Sara Larsen-Cooper, Misty Parker, Abbey Stratton, Simone Steynberg, Merry Sullivan y Sheila Davis. ¡Gracias por todo lo que hacen!

Noche para adultos mayores AVID
Anoche tuvimos 117 estudiantes participando en la Noche AVID Senior de este año. Es una experiencia conmovedora ver a los estudiantes y sus familias disfrutar del orgullo de sus éxitos. ¡Muchos no solo son la primera generación que va a ir a la universidad, sino también los graduados de la escuela secundaria de la primera generación! Todos ellos han trabajado diligentemente hacia su éxito, sabiendo que no es solo para ellos sino también para sus familias. Los maestros de AVID compartieron sus más sinceros deseos para cada uno de sus estudiantes. ¡Un agradecimiento especial a Ali Lilly y su equipo, quienes hicieron un trabajo maravilloso para hacer que este evento se hiciera realidad! También apreciamos el arduo trabajo continuo de nuestros tutores y maestros de AVID. Fue un honor reconocerlos por su arduo trabajo, perseverancia y determinación. Los animo a echar un vistazo más de cerca a nuestros estudiantes AVID que se gradúan, sus logros y su próximo capítulo en la vida.

Té de la mañana con el Dr. V
Durante la última edición de Morning Tea with Dr. V, el Director de Equidad, David Rodríguez, se unió a nosotros para hablar sobre nuestro programa del Consejo Asesor de Padres (PAC). También tuvimos la oportunidad de conversar con dos padres de PAC que compartieron sus propias experiencias con el programa. Nuestros padres líderes participaron recientemente en un evento de capacitación y networking, fomentando relaciones e intercambiando conocimientos. Durante nuestra conversación, los líderes discutieron las oportunidades de escuela de verano para inmigrantes disponibles este año. Puedes ver el vídeo aqui.

guerras de cocina
¡El evento NCTA Kitchen Wars fue un gran éxito! El evento contó con la asistencia de más de 250 invitados y recaudó más de $5,000 para la Fundación del Comité Asesor General de la NCTA. Estos fondos ayudarán a desarrollar y enriquecer el programa de liderazgo estudiantil. Los estudiantes tuvieron la oportunidad de competir en una competencia de alto nivel con otros compañeros de clase, que constaba de 34 estudiantes y 10 equipos. Este fue un esfuerzo de colaboración entre otros programas dentro de NCTA. Muchos estudiantes de otros departamentos participaron en la promoción, coordinación y orquestación de la noche llena de diversión. El personal de la NCTA y la Fundación agradecieron a todas las empresas locales que donaron a la subasta silenciosa, a los estudiantes que participaron en el evento de la noche y a las familias y la comunidad que asistieron.
Los estudiantes de MVHS TV aprenden más sobre la liquidación
Tuve la oportunidad de compartir sobre un acuerdo del que formaba parte el MVSD, más conocido como el acuerdo de Juul. Nuestros estudiantes tenían algunas preguntas excelentes que ayudarán a compartir mejor cómo fue el proceso y qué recibirá el distrito después del acuerdo. Puedes ver el vídeo aqui.

MVHS alberga mercado de primavera
El programa SLC en MVHS está organizando su "Mercado de primavera especialmente hecho" el jueves 25 de mayo de 9 am a 2 pm en PB6. Habrá una variedad de artículos a la venta que incluyen tazas adornadas con arte de los estudiantes, bolsos de mano, imanes, crayones hechos a mano y una variedad de piezas de arte originales. Nuestros estudiantes realizan todas las partes del proceso comercial como una forma de desarrollar habilidades laborales que los beneficiarán en el mundo adulto. Todos los ingresos vuelven al programa SLC y financian materiales y actividades centrados en los estudiantes.  Asegúrate de comprobarlo si puedes.
MV Mariachi y Folklorico presentados en KING 5 News Seattle
Esta semana, King 5 Newscast, presentó una nueva historia sobre nuestro mundialmente famoso programa MV Mariachi, y el Sr. Rivera, "MVSD está viendo que la inversión en música Mariachi da sus frutos". Espero que tenga la oportunidad de ver y escuchar a nuestros estudiantes. Diana Soriano, estudiante de segundo año en Mount Vernon High School, dice en el video: "No cambiaría tomar esta clase por nada, ni por un millón de dólares, ni por una nueva vida, nada...". Puede encontrar el video aquí. También incluyo una foto de una de nuestras alumnas Mariachi Superstar, Brooklyn Talbot, ¡ella sonríe al verse en la televisión! ¡Vamos Bulldogs!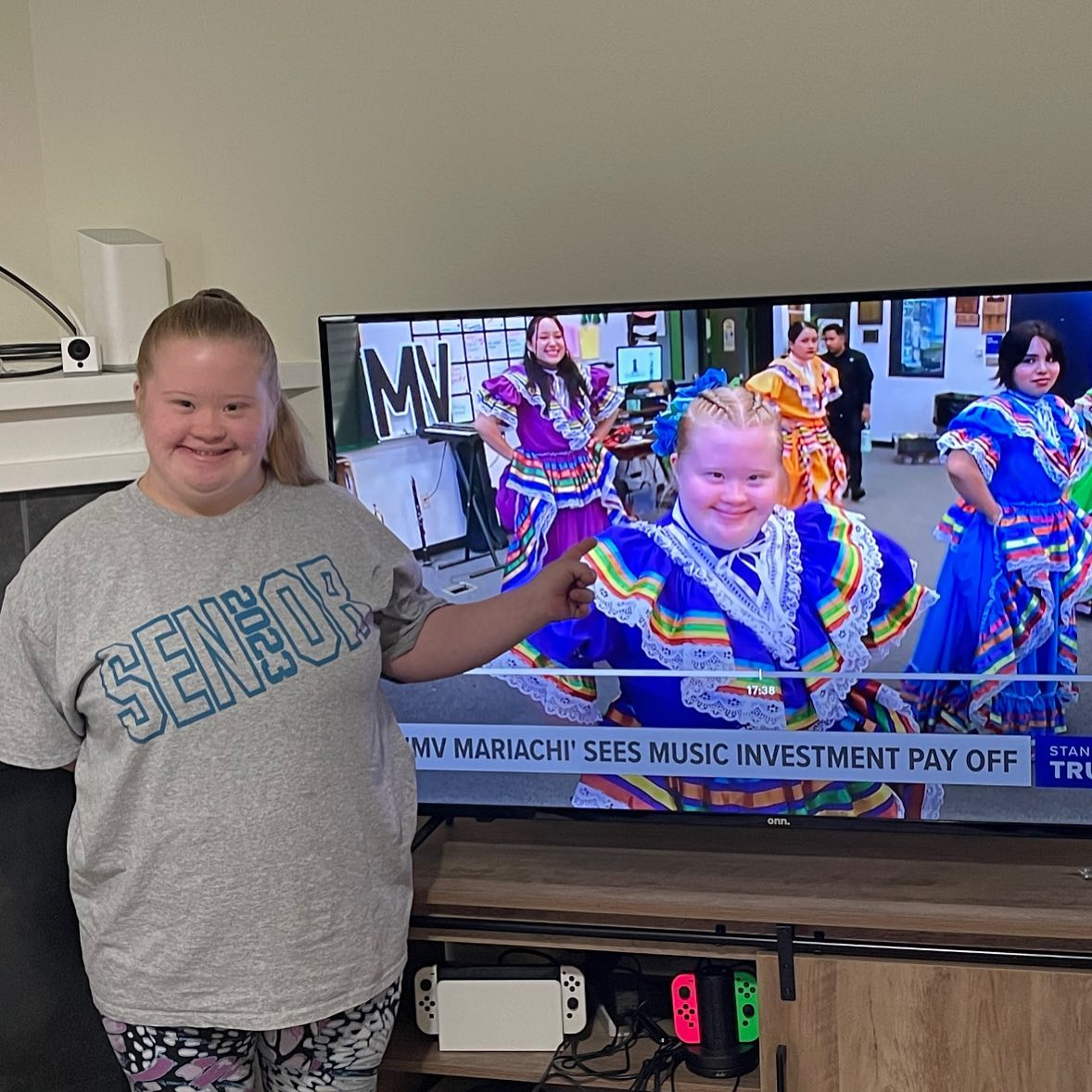 Lanzamiento de video de la Conferencia del Estado de Washington Latinos en Acción
Otro gran video para ver es este nuevo video de la Conferencia Latino en Acción (LIA) del Estado de Washington en Skagit Valley College. El video de LIA presenta a 150 estudiantes latinos en acción de MVHS y al Sr. Sixto, el Sr. Rivera, el Sr. Flores y el Sr. Serrano brillando en la Conferencia LIA del estado de Washington con el orador principal, el astronauta José Hernández. Puedes encontrar el vídeo aquí.
Saludos
Litzey Serrano recibió la beca WALAS (Asociación de Administradores y Superintendentes Latinos de Washington) de este año. Litzey presentó un ensayo en el que agradeció a la Sra. Nora González de la Escuela Secundaria LaVenture. Gracias Litzey por compartir su historia y Sra. González por impactar a nuestros estudiantes. ¡Felicidades, Lizsey!

Próximos Eventos:
19 de mayo de 2023 Departamento de Música de MVHS Noche para estudiantes de último año 7:00 p. m. Cafetería de MVHS
29 de mayo de 2023 Día de los Caídos
¡Por favor manténgase saludable y seguro!