Happy Friday!
Pi beats
Last week, MVHS teachers Mr. Hand and Ms. Keen worked together to teach about Pi and music.  Mr. Hand sent me this slideshow where he shares more about this unique project, and the music of one of our talented students.  I hope you get a chance to view the slide show, and hear the music from Antonio Lopez Vasquez.  Thank you for sharing, Mr. Hand! 
Migrant Youth Wellness Day
This past Friday, students from MVHS and surrounding districts participated in the Migrant Youth Wellness Day.  Migrant Nurse, Isabel Zaragoza-Sanchez, along with NWESD, coordinated the event which hosted breakout sessions and hands-on activities that focused on Social Emotional Learning.  The event was a great success and drew in Migrant students from Mount Vernon, Anacortes, Burlington-Edison, and Sedro-Woolley.  Here is a short video that was captured that day.  Enjoy!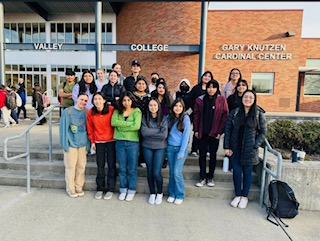 MVHS Multicultural Night
The MVHS LIA (Latinos in Action) group is hosting its annual Multicultural Night tonight!  This fun-filled event is showcasing student performances, food from various cultures, and games.  This year Multicultural Night is being put on by its host school, Mount Vernon High School, alongside Burlington Edison High School, Sedro-Woolley High School, and community members. The event begins at 5:30 tonight. 
NWESD Art Show
Students from neighboring districts participate in this year's NWESD Art Show.  The NWESD received over 260 submissions, and two of the winning submissions came from MVHS!  The winning drawing titled "Great Mountain Sunrise" was submitted by junior, Landyn Diamond.  Also, a winner was a drawing by junior, Mary Jane Brown, with her drawing called "Just Chilling."  Congratulations students!  You can take a look at the Winning Gallery, and I am including a screenshot that MVHS art teacher, Helene Zawila, shared with me.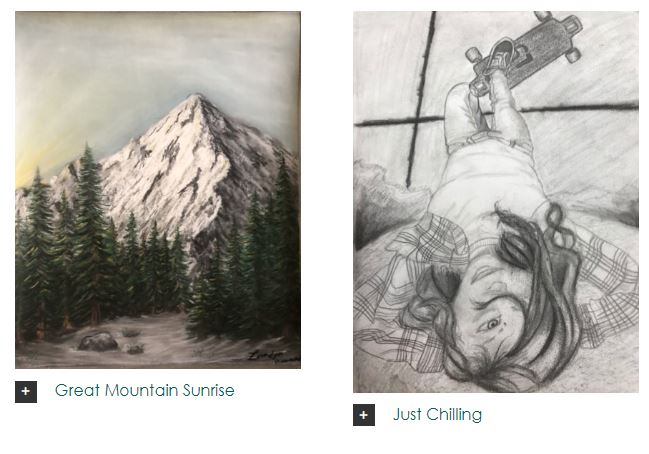 Science Night
The MVHS is hosting the annual Science Night.  This FREE event is taking place Thursday, April 20, from 5-8pm at MVHS-New Main.  There will be Planetarium shows, hands-on activities, local business and organizations that use science, and so much more.  Be sure to stop by and bring your family and friends.   I'm including a flier that you can share or post in your classroom.  
Kinder Registration
Kinder Registration has begun and the district will be hosting Kinder Roundup events.  If you know a family who has a child turning 5 by August 31, 2023, please feel free to share this information with them.  Here is a link to the district website for more information.  

Shout Outs:
Congrats to the following State Speech Winners from the WIAA State Debate Championship this past weekend:

Sophomore Taite Kirkpatrick placed 2nd in Lincoln Douglas Debate and 4th place Speaker Award!  

Junior Natalie Holland took 3rd Place in Congress and  the TOP PRESIDING OFFICER AWARD!  

Natalie and sophomores Avalon Stewart and Sayer Theiss combined scores in Congress finals earned our team the 2nd Place Congress Sweepstakes Award! 

Collectively, they were awarded the 4th Place Debate Sweepstakes Award! 

Upcoming Events: 
March 17-April 2  Addams Family Musical 
March 24     Baseball JV vs. Sedro-Woolley 4:00pm (Sherman Anderson Field)
         Girls Tennis JV vs. Lynden 4:00pm (Rescheduled from yesterday)
March 24 @ 5:30pm  MVHS LIA Multicultural Night
Please stay healthy and safe!
---
El 24 de marzo de 2023
Feliz viernes,
Musica y Pi
La semana pasada, los maestros de MVHS, el Sr. Hand y la Sra. Keen, trabajaron juntos para enseñar sobre Pi y la música. El Sr. Hand me envió esta presentación de diapositivas donde comparte más sobre este proyecto único y la música de uno de nuestros talentosos estudiantes. Espero que tenga la oportunidad de ver la presentación de diapositivas y escuchar la música de Antonio López Vásquez. ¡Gracias por compartir, Sr. Mano!
Día del salud de la Juventud Migrante
El viernes pasado, estudiantes de MVHS y distritos aledaños participaron en el Día de salud de Jóvenes Migrantes. La enfermera migrante, Isabel Zaragoza-Sánchez, junto con NWESD, coordinó el evento que organizó sesiones de trabajo y actividades prácticas que se centraron en el aprendizaje socioemocional. El evento fue un gran éxito y atrajo a estudiantes migrantes de Mount Vernon, Anacortes, Burlington-Edison y Sedro-Woolley. Aquí hay un video corto que fue capturado ese día. ¡Disfrutar!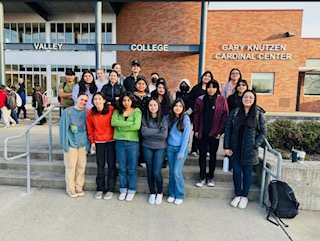 Noche multicultural de MVHS
¡El grupo MVHS LIA (Latinos en Acción) está organizando su Noche Multicultural anual esta noche! Este evento lleno de diversión presenta actuaciones de estudiantes, comida de varias culturas y juegos. Este año, la escuela anfitriona, Mount Vernon High School, junto con Burlington Edison High School, Sedro-Woolley High School y miembros de la comunidad, están organizando la Noche multicultural. El evento comienza a las 5:30 de esta noche.
Exposición de arte NWESD
Los estudiantes de los distritos vecinos participan en el Show de Arte de NWESD de este año. ¡NWESD recibió más de 260 presentaciones y dos de las presentaciones ganadoras provinieron de MVHS! El dibujo ganador titulado "Gran Amanecer en la Montaña" fue presentado por Landyn Diamond, junior. Además, un ganador fue un dibujo de la junior, Mary Jane Brown, con su dibujo llamado "Just Chilling". ¡Felicidades estudiantes! Puede echar un vistazo a la Galería ganadora, e incluyo una captura de pantalla que la maestra de arte de MVHS, Helene Zawila, compartió conmigo.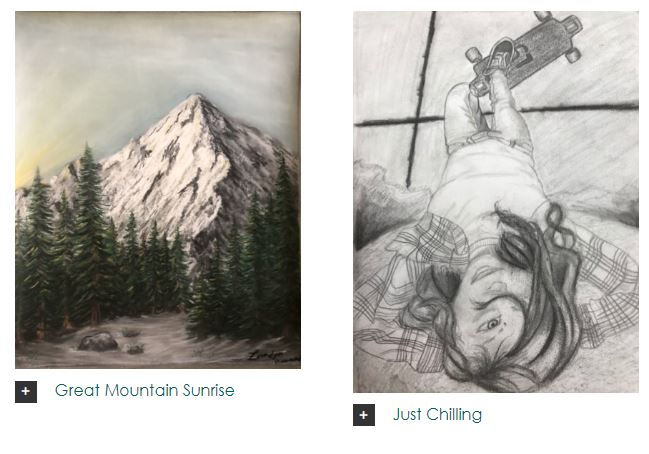 Noche de ciencia
El MVHS está organizando la Noche de Ciencias anual. Este evento GRATUITO se llevará a cabo el jueves 20 de abril de 5 a 8 p. m. en MVHS-New Main. Habrá espectáculos en el Planetario, actividades prácticas, negocios locales y organizaciones que utilizan la ciencia, y mucho más. Asegúrese de pasar y traer a su familia y amigos. Incluyo un volante que puede compartir o publicar en su salón de clases.
Registro de kínder
La inscripción para Kinder ha comenzado y el distrito organizará eventos de Kinder Roundup. Si conoce a una familia que tiene un hijo que cumplirá 5 años antes del 31 de agosto de 2023, no dude en compartir esta información con ellos. Aquí hay un enlace al sitio web del distrito para obtener más información.

Saludos:
Felicitaciones a los siguientes ganadores de discursos estatales del campeonato de debate estatal de WIAA el pasado fin de semana:

¡El estudiante de segundo año Taite Kirkpatrick obtuvo el segundo lugar en el debate de Lincoln Douglas y el cuarto lugar en el premio Speaker Award!

¡Junior Natalie Holland obtuvo el 3.er lugar en el Congreso y el PREMIO AL PRINCIPAL FUNCIONARIO PRESIDENTE!

¡Natalie y los estudiantes de segundo año Avalon Stewart y Sayer Theiss combinaron las puntuaciones en las finales del Congreso para que nuestro equipo obtuviera el segundo lugar en el Sorteo del Congreso!

¡Conjuntamente, fueron galardonados con el premio del sorteo del debate del cuarto lugar!

Próximos Eventos:
17 de marzo al 2 de abril Musical de la familia Addams
24 de marzo Béisbol JV vs. Sedro-Woolley 4:00 p. m. (Sherman Anderson Field)
          Girls Tennis JV vs. Lynden 4:00pm (Reprogramado desde ayer)
24 de marzo a las 5:30 p. m. Noche multicultural de MVHS LIA
¡Por favor manténgase saludable y seguro!